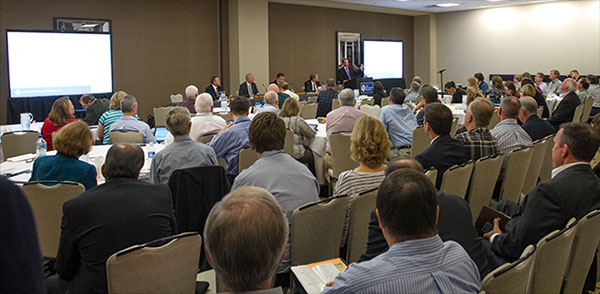 TEI's courses provide 5 days of in-depth training on specific areas of tax.
Federal Tax Course – Level I offers best-in-class training in U.S. federal tax and is designed for tax professionals with 1-5 years of corporate tax experience or for those who want a refresher on the latest federal tax matters.
 
U.S. International Tax Course offers an unmatched faculty of tax educators specializing in U.S. international tax matters.
 
Federal Tax Course – Level II focuses on more advanced federal tax matters and is designed for tax professionals with 5+ years of experience. This course is held every other year.
2018 FEDERAL TAX COURSE - LEVEL I (April 23-27, 2018 - East Lansing, Michigan)
Designed as an introduction to the U.S. federal income tax system, TEI's Federal Tax Course – Level I is suitable for corporate employees with fewer than five years of business tax experience. Core corporate tax compliance issues, basic tax planning, and tax research, as well as the fundamentals of financial accounting for taxes, will be addressed. This course is open to members of TEI and other in-house tax professionals (Individuals engaged in private law, accounting, or other consulting practice, as well as government employees, are ineligible to attend).
Experience Level: Beginning (Suggested 1-5 years tax experience)
CPE/CLE INFORMATION
The course provides approximately 38 credits on a 50-minute hour basis, 31.5 credits on 60-minute hour basis. There are no prerequisites. Course hours and technical topics are subject to change.
CONFERENCE HANDOUT MATERIALS
Conference materials will be posted in a searchable form on a secure website as they are received from the speakers. Beginning two weeks before the conference, registrants will be able to access the handouts via the TEIConnect section of TEI's website (requiring a password). Handouts should be downloaded or printed out by registrants for use onsite. No paper copies will be provided in your registration materials onsite and there will be no onsite printing capabilities. TEI encourages you to print documents of interest in advance. Wi-Fi will be available in the meeting rooms. Materials will remain accessible by conference registrants for one month after the conference.
HOUSING INFORMATION
The course will be held at the Kellogg Center on the campus of Michigan State University. Housing for registrants is included in the Full Registration Fee for this course. Your reservation at the Kellogg Conference Center Hotel begins on Sunday, April 22 through Thursday, April 261 with check-out on Friday, April 27. For more information about the facilities, please visit www.kelloggcenter.com.
REGISTRATION
Registration Fees: $2,200 full course registration includes lodging (first registrant from same company), $1,900 full registration with NO LODGING (1st registrant from same company), $1,900 full course subsequent registrant from same company includes lodging, $1,600 full course subsequent registrant from the same company with NO LODGING. There are no split registrations available.
REGISTRANT LIST
A new list of registrants is posted each Monday. CLICK HERE to view list.
CANCELLATION POLICY
All cancellations must be made in writing by 4:00 pm ET on April 6, 2018, and will be subject to an administrative service charge of $75 (U.S.); for cancellations after April 6, 2018 (the date handout materials become available) and before April 13, the charge will be $200 (U.S.). No refunds will be made for cancellations received after April 13 and for no-shows. TEI cannot carry forward registration fees towards future events. If an issue arises after April 13 we encourage you to send a coworker in your place. Substitutions are $50 per person. To cancel, please send an email to meetings@tei.org. In the event of cancellation or over-subscription of the conference, TEI's liability is limited to the return of the registration fee.
2018 U.S. INTERNATIONAL TAX COURSE (August 13-17, 2018 - Atlanta, Georgia)
More information soon.
Click HERE for a weekly list of registrants.