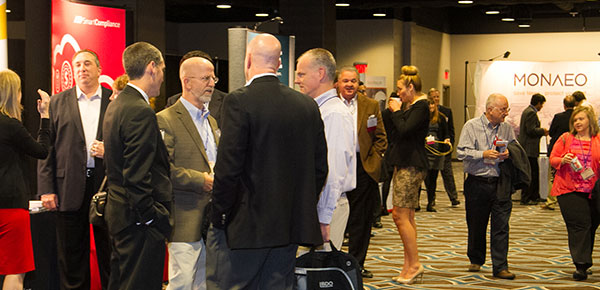 TEI offers several ways to demonstrate your firm's ongoing support for the important efforts of our organization, worldwide. If you have questions, or are interested in pursuing these or other initiatives, please contact Lisa Samuels, TEI's Director of Marketing and Membership, at [email protected], or 202-464-8340.
TEI Conference Sponsorship Opportunities
TEI's Annual and Midyear Conferences present excellent networking and business development opportunities to companies through our sponsorship program.
Our sponsorships are designed to provide your organization with maximum visibility to key decision-makers. Each level of sponsorship consists of a variety of benefits that provide extensive exposure to your company before, during, and after the conference. There are 4 levels of sponsorship: Platinum, Gold, Silver, and Bronze. In addition, several sponsorship enhancements are available, and detailed in our sponsorship brochure.
If your firm would like to take advantage of the benefits of being a TEI Conference Sponsor download our sponsorship brochure, or contact Lisa Samuels, TEI's Director of Marketing and Communications, at [email protected], or 202-464-8340.
The Tax Executive Magazine
The Tax Executive is the bimonthly publication of the Tax Executives Institute. Subscribers are corporate tax directors, managers, treasurers, controllers, and attorneys; state, local, and federal tax officials; accountants, lawyers and other public practitioners; and leading public and academic libraries.
Paid circulation is approximately 7,300, but surveys confirm that readership extends to numerous nonsubscribers in business and law schools, law, and accounting firms, and 3,200 of the leading corporations in the United States, Canada, Europe, and Asia.
Please download the advertising rate card (which includes the Mechanical Specifications) or contact TEI's Publications Manager.
We invite your firm to participate in what the majority of nearly 7,000 members regard as one of our most valuable publications, the annual Membership Roster.
Our Membership Roster features member listings for the Institute's 57 chapters, including information on the Board of Directors, standing committees, and continuing education opportunities.
Advertising in the Membership Roster ensures that your firm's name and message are never far from the fingertips of the world's top corporate tax professionals.
To receive a copy of the Roster that includes previous advertisements, please contact TEI's Publications Manager. To reserve space in the upcoming Membership Roster, please download the Membership Roster Space Reservation Form. Reservations must be submitted, with payment, by July 7. Artwork is due July 14.