---
CHAPTER NEWS
---
Our Communications & Technology Committee has created a NY Chapter LinkedIn page. Check it out at https://www.linkedin.com/company/tax-executives-institute-tei-new-york-chapter. 
---
 UPCOMING CHAPTER MEETINGS

 
---
Global Tax Controversy Update Following Tax Reform and BEPS: Cost and Benefit Profiles
International Chapter Breakfast Meeting
Thursday May 30, 2019
Program: 9 AM –10:45 AM
Registration and continental breakfast begins at 8:30 AM 
Sponsored and Hosted By:
Baker & McKenzie LLP
Location: 452 Fifth Avenue (entrance on 40th St. between 5th & 6th Avenues), New York, N.Y.
When push comes to shove, taxpayers continue to fare well in litigation.  At the same time, resource constraints are hitting home, tax authorities are more aggressive and coordinated than ever, and decision making is complicated by high cost, uncertainty in negotiations, and international complexities.  This program will provide an update on recent tax litigation around the world, and strategies for navigating the next wave of US, international, and multijurisdictional tax disputes in this post-BEPS, post-tax reform environment.
Speakers: Dan Rosen (Baker & McKenzie, NY)
                   George Clarke (Baker & McKenzie, Washington, DC)
                   Imke Gerdes (Baker & McKenzie, NY)
                   Erin Gladney (Baker & McKenzie, NY)
CPE and CLE Credits will be granted to participants
Conference Fee: $25– Credit cards accepted online only.  Check or cash will be accepted at the door (check made payable to TEI – NY Chapter) but you must register.
To register for this meeting go to https://teinychaptermeeting053019.eventbrite.com            
If there are any questions please contact DS@dovercorp.com  
---
Lunch and Learn – Second in the Series - APB 23 (ASC 740-30) With and Without Indefinite Reinvestment After Tax Reform
Sponsored by KPMG, 345 Park Avenue NYC
When: June 4, 2019
12 Noon - 2 PM
Registration details to follow
---
Federal Chapter Meeting  
Navigating Through the Recent Regs. and Guidance Including the Impact on Accounting Methods 
Sponsored by Deloitte Tax LLP
Wednesday, June 5, 2019
Program: 8:30 A.M. - 9:00 AM: Registration, Breakfast and Networking 
9 A.M. – Noon - Program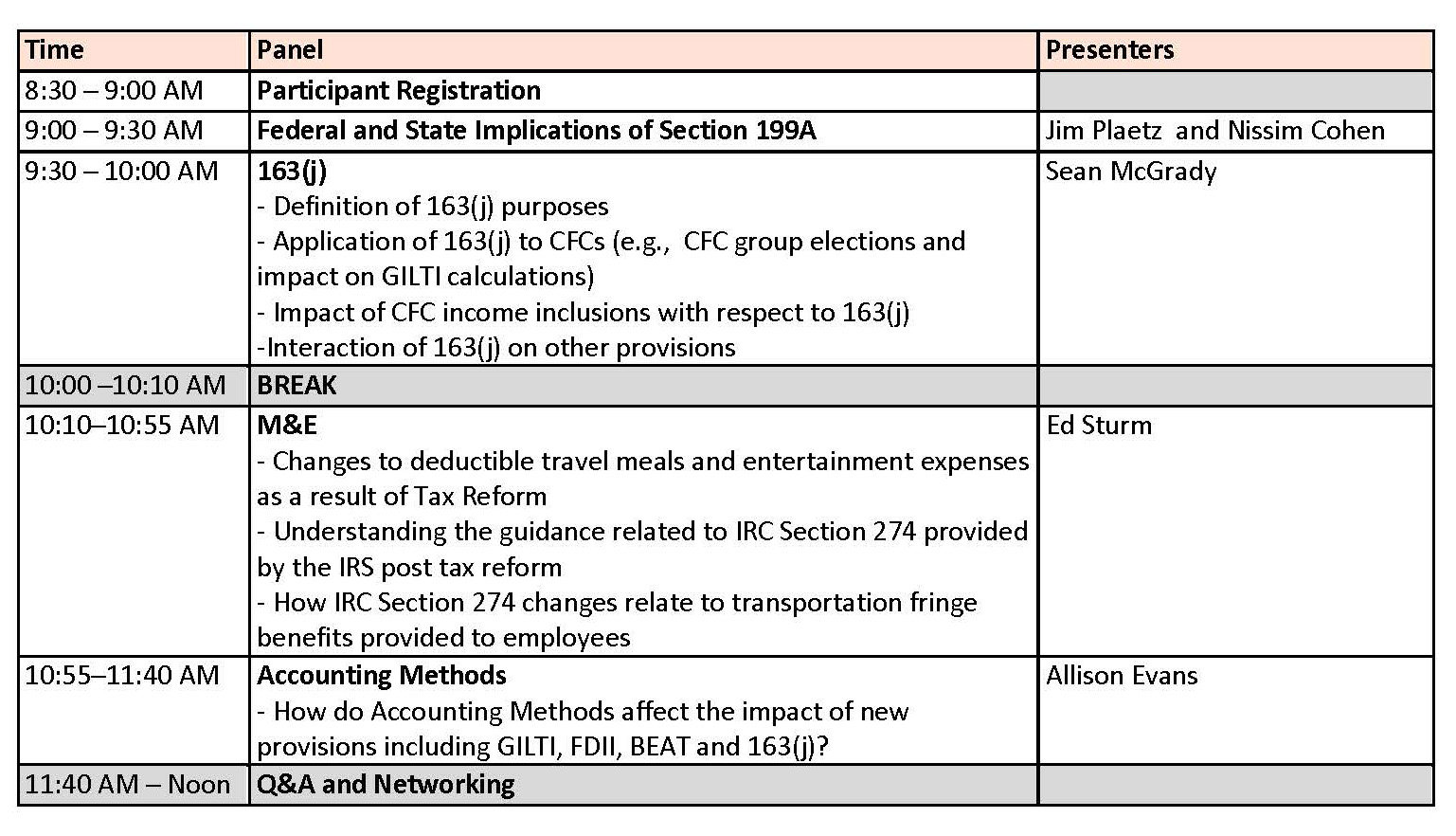 Location: Deloitte's office – 30 Rockefeller Plaza 40th Floor (at 49th Street).
Security Information:  Enter the 30 Rock building lobby via the entrance on 49th Street between 5th and 6th Avenues.  Turn right and proceed toward the elevator bank for floors 28-42.  A Deloitte greeter will admit you to the elevator bank and direct you to the meeting room on the 40th floor.
The cost for this seminar is $75 and NY CPE credits will be earned by attendees. 
To register, please use this Eventbrite link:
https://teinychaptermeeting060519.eventbrite.com
---
                                                  TAX EXECUTIVES INSTITUTE

 

REGION 2 TAX FORUM

Where Are We Now: U.S. Tax Reform - One Year Later
The Region 2 Tax Forum offers plenary and break-out sessions on such
 key topics as:
Tax Reform – What Have We Learned? – Federal, State & Local & International
A Brave New World – International Tax Planning post-Tax Reform
Tax Controversy – Federal & State Considerations
Partnerships and Joint Ventures: The Federal Audit Rules and State Impact
The Draft Tax Forum program is below. To register, go to
https://www.eventbrite.com/e/2019-tei-region-ii-tax-forum-tickets-53761899288
When: May 20 – 21, 2019
Where: Borgata Hotel, Atlantic City, NJ
Registration Fee: $225    Hotel Room Rate: $139 [plus tax]
CPE and CLE Credits Will Be Awarded
To book your room at the Borgata click: 
Borgata Online https://book.passkey.com/go/GBTTX19 or call 609-317-1000 and mention the TEI Conference Code GBTTX19
To learn about Mayer Brown's Financial Aid policy and application process, please email Mayer Brown at : cle-events@mayerbrown.com