---
CHAPTER NEWS
---
Our Communications & Technology Committee has created a NY Chapter LinkedIn page. Check it out at https://www.linkedin.com/company/tax-executives-institute-tei-new-york-chapter. 
---
 UPCOMING CHAPTER MEETINGS

 
---
 18th Annual TEI-Sponsored LB&I Northeastern Compliance Practice Area Conference
Wednesday, September 25, 2019
The Tax Executives Institute – New York Chapter is once again partnering with the IRS to bring you LB&I Northeastern Compliance Area updates on a variety of topics.

Among the highlights of this year's conference:

LB&I Examination Update: Nikole Flax, LB&I Deputy Commissioner, Barbara Harris, Director of NECPA, Darlena Billops-Hill, DFO- North Atlantic and Nancy Wiltshire, DFO – Mid-Atlantic will provide LB&I Examination Process Updates.
International Tax Update: An LB&I Update on TCJA, Campaigns, the Large Corporate Compliance (LCC) Program are among the topics to be discussed on the panel which includes John Hinding, Director, Cross Border Activities and Orrin Byrd, DFO, Cross Border Activities and Brendan T. O'Dell, Senior International Advisor, Pass Through Entities.
Global Tax Issues Update: John Hinman, DFO, Transfer Pricing Practice, Nancy J. Lee, FATCA Program Manager (Acting), Nicole Cammarota, Senior Counsel, and Elizabeth P. Flores, Senior Level Deputy Area Counsel will be part of a panel discussion on global tax issues including Transfer Pricing and FATCA
Appeals Updates: Reinhard Schmuck, Program Manager of Appeals, Paul Darcy, Senior Counsel and Dawn Schmidt, Appeals Officer will speak on a panel regarding the latest developments in Appeals. Elizabeth P. Flores, Senior Level Deputy Area Counsel and Abigail Foster Dunnigan, Associate Area Counsel will discuss recent Court decisions.
Please see the latest draft program below for details, including the distinguished group of practitioners who will be participating in the panel discussions.

The Conference also allows for numerous opportunities for networking and one-on-one interaction during breakfast, coffee breaks and lunch.

The conference will be held at the Ted Weiss Federal Building, 290 Broadway, 30th floor.  Space is very limited in the facility and consequently, registration will be on a first come, first served basis. I urge you to mark your calendar and plan to attend this event.  New York CPE credits will be awarded to participants. To register online go to https://irsconference92519.eventbrite.com.
We look forward to seeing you on September 25. Please contact me, TEI chair of the conference, should you have any comments or questions.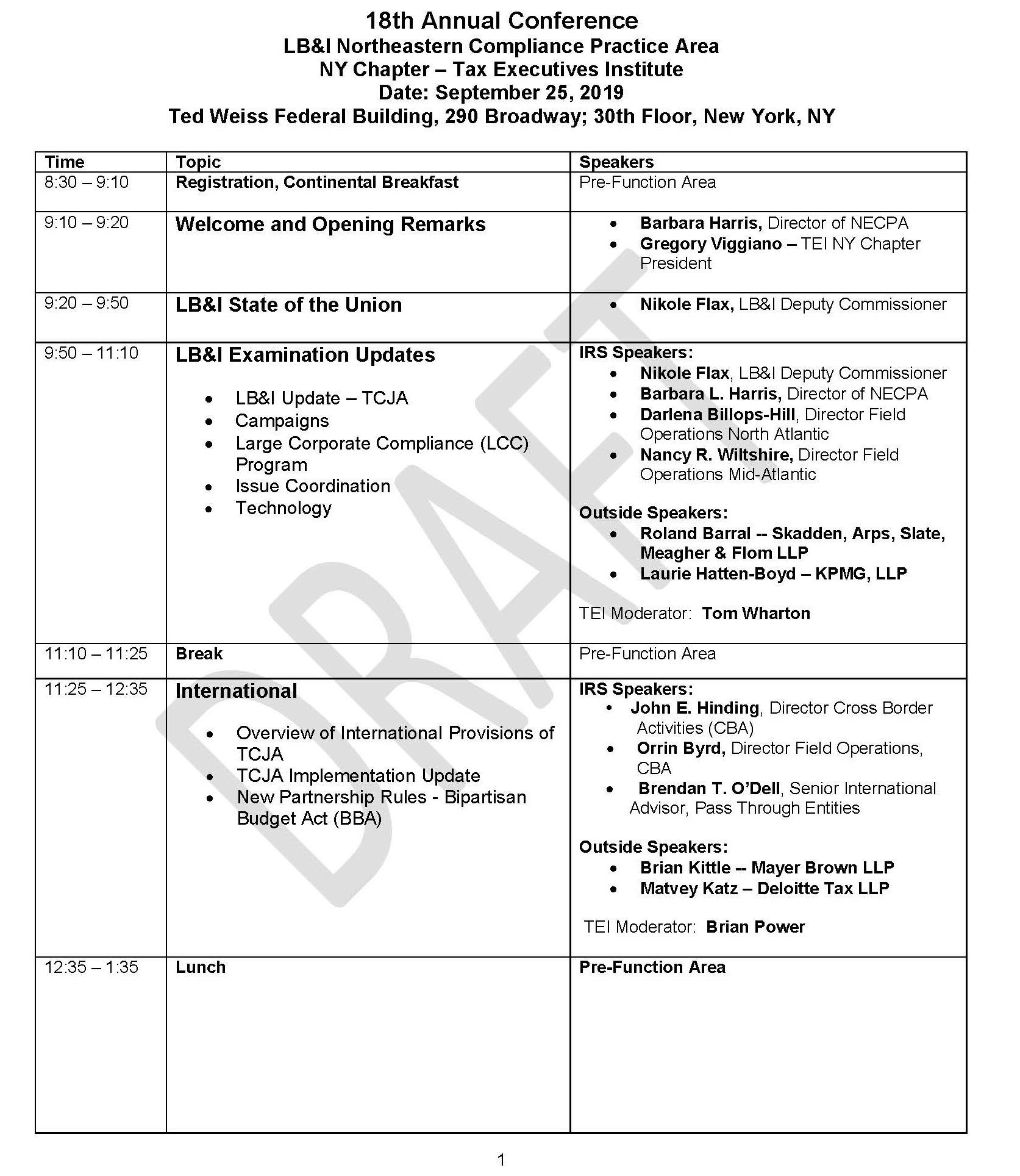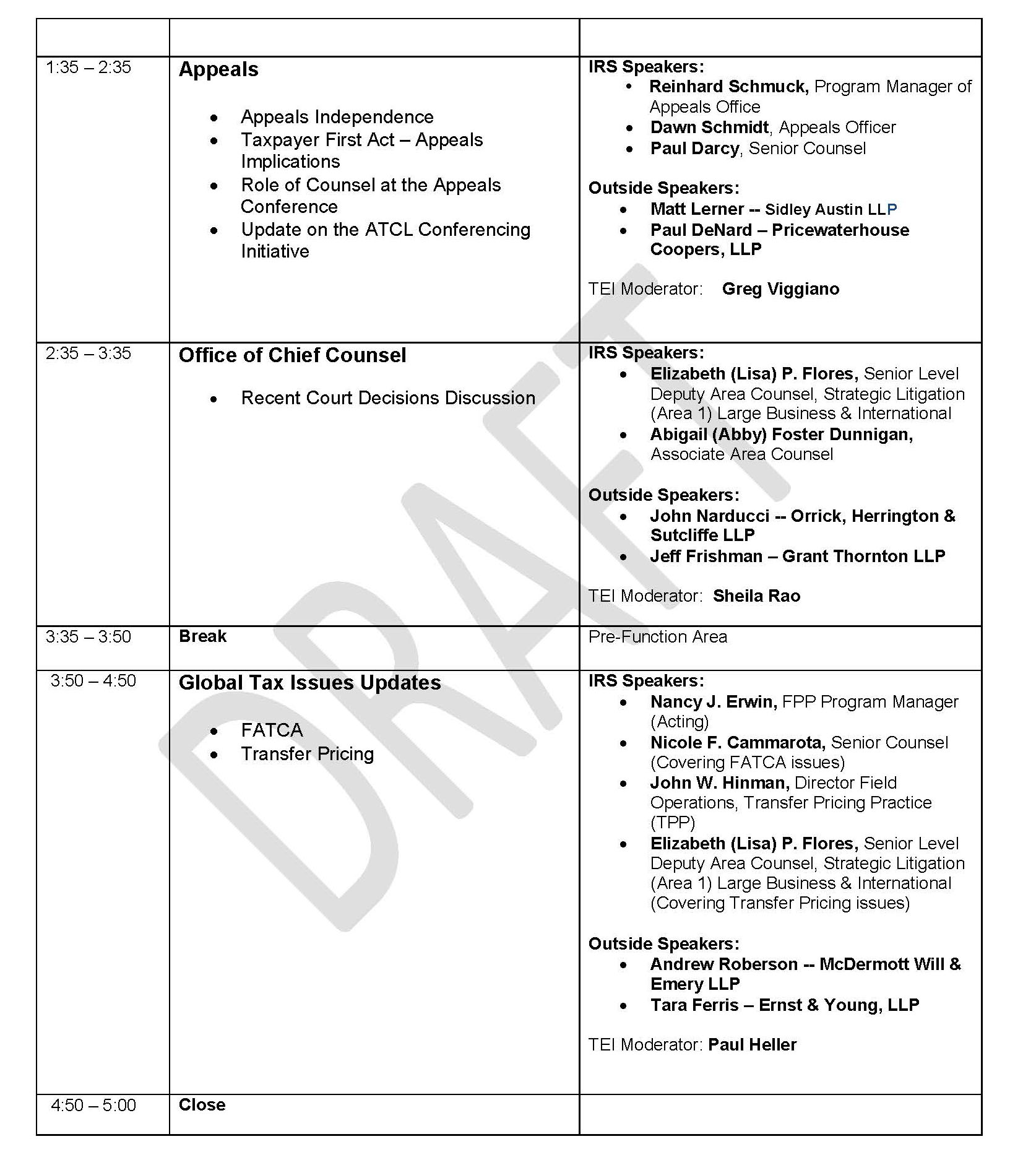 Paul Heller
TEI Conference Chair
[email protected]
---
STATE AND LOCAL CHAPTER MEETING
Wednesday, October 16, 2019 
Sponsored and Hosted by Pillsbury Winthrop Shaw Pittman, LLP 
Sales Tax: Transformation in Action
Designed for Sales Tax Compliance Professionals at All Levels 
Sheila Rao, Senior Vice President, TEI NY Chapter, will present a step-by-step study of her Company's sales tax software implementation
Presenters will include: 
Marc Simonetti, Partner, Pillsbury Winthrop Shaw Pittman, LLP 
Charles Maniace, VP, Regulatory Analysis and Design, Sovos
Sai Avula, Managing Director, Grant Thornton                                                                   
Topics include:
Working with Vendors
Development of your company's taxability matrix
Critical resources – Working with your in-house IT department
Step by Step walk through of the monthly process
Dealing with Tax notices and law changes
Mitigating audit risk
What the Vendors are hearing from clients post Wayfair
What the Tax consultants are hearing from clients post Wayfair
Using Sales tax software for due diligence
Location: Pillsbury's offices - 31 West 52nd Street, NYC
Time: Registration: 8:30 A.M. Presentation: 9 AM – Noon with a networking lunch
Conference Fee: $50– Credit cards accepted online only.  Check or cash will be accepted at the door (check made payable to TEI – NY Chapter) but you must register. To register go to https://teinychaptermeeting101619.eventbrite.com.
NY CPE and CLE credits will be awarded to participants. 
Questions: Contact Sheila Rao ([email protected])
---
The New York Chapter of the Tax Executives Institute is pleased to invite you to the 56th Annual Tax Symposium to be held in New York City on December 12, 2019.
The Symposium is our premier event of the year and this year is no exception. Three concurrent technical tax sessions for Federal, State and Local and International Taxes are offered with a wide range of important topics and great speakers. DETAILS TO FOLLOW. SAVE THE DATE!