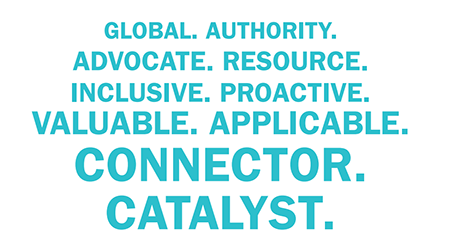 These are the words we consistently heard when we asked you – our members – how you would describe and what you valued most about your TEI membership. To summarize these values as part of our effort to update our brand and clarify the message about TEI, we've introduced a new tagline for TEI:
Connect. Engage. Impact.
These three words are the foundation of all that TEI offers its members.
Connect with the Institute, your chapter, your profession.
Engage with your in-house tax professional peers to develop skills and enhance your network.
Impact your company's success, your professional opportunities and your career.
In addition, in this quickly changing business landscape, with new tax policies and regulations impacting business decisions that need to be made at a progressively rapid pace, TEI stays ahead of changes so you can continue to rely on us for cutting-edge solutions to best address the business challenges you are facing now and into the future. And finally, from audits and appeals to tax technology, international tax and financial reporting, TEI continuing education opportunities focus on providing the latest information and actionable takeaways that can be immediately put into practice.
As you can see, TEI membership continues to provide a one-stop solution for all of your in-house tax needs. At $275 per year, dues remain a tremendous bargain. To ensure you continue to receive all of the benefits of membership, we encourage you to renew your membership now.
Renew by April 1 for the 2019-2020 membership year and be eligible to receive one of two free registrations -- a $950 value -- for the 2019 Annual Conference in New Orleans, LA, Oct 28-30.
The quickest way to renew is through www.tei.org. Sign in with your email and password, then click the "It's time to renew!" link below your name.
This is an exciting time for TEI and we look forward to providing you with the resources you need to be successful!
Sincerely,
Eli J. Dicker
Executive Director
P.S. Don't see the "It's time to renew" link? Email [email protected] for assistance!